Offering great benefits to your employees is a good start, but how effective are these benefits in attracting or retaining employees if they don't know much about them? Many employers understand the struggles of explaining benefits in a simple and engaging way. Since benefits can be complicated, we'll take a look at some of the best methods for benefits communication throughout the year.
According to the International Foundation of Employee Benefit Plans (IFEBP), most employers are using Print mailers, followed by email, internal websites, and video with few employers utilizing social media, texts, and robocalls. This can be seen in the chart below.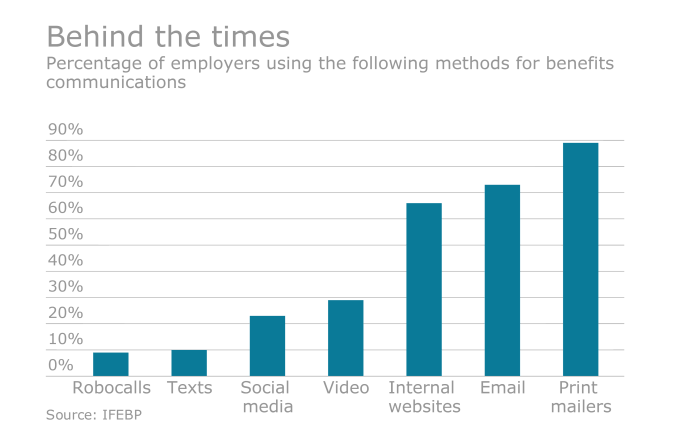 Simple & Concise Messaging
Print mailers and email can be effective for benefits communication and staying in touch with your employees a couple times a month throughout the year. These methods should be simple and concise. At Faison Group, we have a resource library full of short documents perfect for payroll stuffers. Some examples include benefits of an HRA, HSA, Open Enrollment Announcements, and much more. If you would like access to our resource library, feel free to contact us!
Videos and Games
Other effective methods of communication include gaming and videos. This method is particularly effective for younger workers who are used to and enjoy modern technology through apps, video games, and videos. This is a perfect way to break down benefits communications into an easy to understandable format.
Two Way Communication
Don't ditch your traditional communication methods, but rather build upon them. People still like to have benefits guides and pamphlets they can hang on to and refer to throughout the year. Make yourself available for employees to ask questions about these documents or anything regarding their benefits at any time in the year, rather than just the open enrollment period. You can even send out an email halfway throughout the year to gauge your employee's satisfaction and understanding of certain aspects to see what you may want to review with them!

On June 22, 2017 Senate Republicans issued their own proposed legislation to repeal and replace the Affordable Care Act (ACA), called the Better Care Reconciliation Act (BCRA). The bill is comparable to the American Health Care Act (ACHA), including by enhancing HSAs, repealing the employer and individual mandates, and preserving some ACA protections.
Enhancing Health Savings Accounts (HSAs)
The BCRA would:
Increase the maximum HSA contribution limit – The contribution limit would rise from $3,400 for self-coverage to $6,550 and from $6,750 family coverage to $13,100.
Allow both spouses to make catch-up contributions to the same HSA – The BCRA would allow both spouses of a married couple to make catch-up contributions to one HSA beginning in 2018, if both spouses are eligible for catch-up contributions and either has family coverage.
Address expenses incurred prior to establishment of an HSA – If an HSA is established within 60 days after an individual's high deductible health plan (HDHP) coverage begins, the HSA funds would be able to be used to pay for expenses incurred starting on the date the HDHP coverage began.
The key differences between the AHCA and BCRA relate to the Medicaid program.
Modernize Medicaid
BCRA would provide enhanced federal payments to states that already expanded their Medicaid programs, and then transition Medicaid's financing to a "per capita allotment" model starting in 2021, where per-enrollee limits would be imposed on federal payments to states
Unlike the AHCA, the BCRA would guarantee coverage for children with medically complex disabilities and ease restrictions on coverage of treatment for mental diseases in psychiatric hospitals.
The Senate Republicans would like to vote on the BCRA before July 4. For a more detailed and in depth look at the ACA replacement bill, download the complete ACA compliance bulletin here .

Are your benefits the best they can be?
Traditionally, insurance brokers have only focused on offering insurance guidance, which includes tasks like quoting plans, negotiating renewals, comparing plans and submitting applications. Over the past few years, though, health care reform has shaken the industry. As health care costs continue to rise and more regulatory requirements are placed on employers, the need for a broker who can engage employees and leverage technology to streamline administrative tasks has increased
That's where Faison Group can help. Faison Group gives you the expert guidance that makes the benefits selection, implementation and analysis process smoother, plus we're technology-backed and can offer you our HR online tool, HRconnection®, to make the benefits administration process more efficient.
Is your current broker a trusted advisor who can offer expert help and technology to help make benefits administration easier? If not, it's time to take a look at what you're getting. With traditional brokers, you won't receive the benefits support, employee communications, and personalized service that Faison Group can provide.
The following chart compares what Faison Group can offer compared to traditional brokers…
Archives
2018
2017
2016
2015
2014