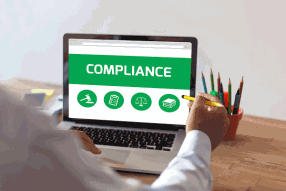 At Faison Group, we take HR Compliance seriously. ERISA, ACA, FMLA, COBRA, FSA, HIPAA – it's all enough to make your head spin! Even as a seasoned HR professional, the ever-changing legislative changes make it difficult to keep up, and more importantly difficult to keep in compliance.
As your expert health insurance broker, we know that we have a responsibility to you as the client to make sure you are aware of the legal requirements you need to meet as an employer. Most brokers see this as a separate issue and the complete responsibility of the client. At Faison Group, we provide a number of ways to tackle HR compliance, from investing little time and effort, to taking on the tasks yourself with our guidance. Our solutions include:
Utilizing our vast Employer Resource Portal to download toolkits, guides and workbooks to complete HR compliance requirements on your own.
Outsourcing your HR compliance needs completely to one of our experienced compliance vendors (for example: TASC).
Sharing the responsibility of compliance by outsourcing some of the tasks, while taking on some of the tasks internally.
If HR compliance seems to be a daunting task for your company as it is to so many others, we are here to help you get on track with the right solution for you. Contact us today to discuss your company's needs.