Faison Group is proud to announce a new partnership with TASC to offer some of the lowest prices for HR compliance in the industry. Bundles that can cover all of your HR compliance needs are available, including ACA reporting, ERISA reporting, HIPAA reporting, FMLA reporting, FSA reporting and COBRA compliance. You can pick and choose which HR compliance services you need to outsource and bundled pricing can make these services very affordable. TASC has over 35 years of expertise and stands by its superior customer service and innovative technology and solutions. As an HR professional, the difficulty in following every change coming from Healthcare Reform is paramount. Understanding the legislative regulations and mandates are overwhelming to say the least. Outsourcing is a good option for your company if your HR team doesn't have the knowledge, time or resources for compliance.
Here are some common questions we have received while clients are deciding if HR compliance outsourcing is right for them:
When should you outsource HR compliance?
When you have limited knowledge of compliance laws and the intricate requirements and procedures of complying properly with ERISA, HIPAA, FMLA, FSA or COBRA requirements.
When you have limited time and resources to spend on compliance and filing paperwork.
When you are behind on compliance and need to get caught up, even if you suspect you will owe penalties.
Is outsourcing HR compliance risky?
No. Outsourcing compliance to professionals can actually lower your risk of potential penalties and violations. Most HR professionals are not trained to the degree needed to become experts at compliance.
Is outsourcing HR compliance expensive?
The price of compliance will always be less expensive than the price of the penalties and fines your company may face in the case of non-compliance. Depending on the size of the company and what services are needed, compliance services can be very affordable, especially when bundled.

Want to take care of compliance yourself, but not sure where to start? We have a guide that covers everything from who must report to how to file with the IRS. This easy to use, step-by-step guide makes Section 6056 reporting simple. Compliance topics covered in this guide are:
Applicable large employers reporting responsibilities under Section 6056
Forms that are needed to complete Section 6056 reporting
Information that a large employer must provide to full-time employees and to the IRS regarding the health care coverage it offered (or did not offer) to full-time employees
Deadlines for filing information with the IRS and providing information to full-time employees and how this should be completed
Penalties for failing to satisfy Section 6056 reporting requirements
Under Section 6056, you must provide information on health insurance coverage using the 1094-C and the 1095-C. Each of these forms outlines the coverage an employee has obtained through the group health insurance plan offered by an organization for the year. Each employee must receive a 1095-C (pictured below), and the IRS must receive a 1094-C and a separate employee statement (Form 1095-C) for each full time employee.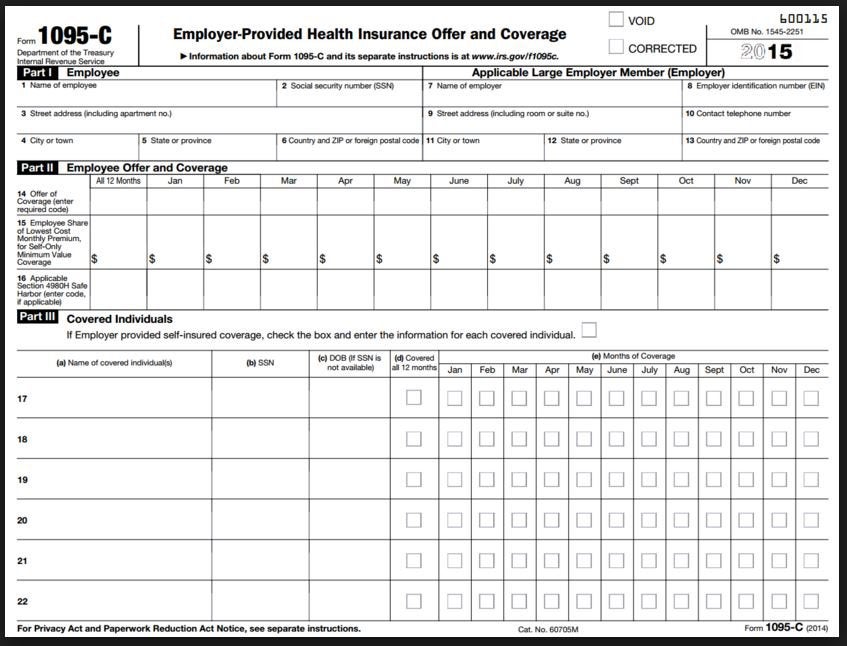 Many telemedicine or telehealth stories start like this one: "I started getting a sore throat on Monday. By Monday night I had sound medical advice and a prescription in-hand. I didn't have to take off work. All I had to do was make a phone call, consult with a physician, and I was on track to feeling better." With stories like those, there's no doubt telemedicine is here to stay. Telemedicine may be an option offered with many major health insurance plans, but employers can also opt to purchase this valuable service as a separate benefit for their employees for as low as $2.00 per employee per month.
These telemedicine services provide 24/7 access to board certified physicians that can diagnose and treat common ailments, such as allergic reactions, sore throats or urinary tract infections. Telemedicine can save time and money as it cuts down on emergency room and urgent care visits, not to mention saving claims to the group health insurance plan. Whereas telemedicine shouldn't be used to replace necessary doctor's visits, it can be used to treat minor ailments. Consultations can take place via phone call, email or via video call.
Adding telemedicine to your group health insurance plan can greatly increase satisfaction with benefits packages among employees as well. Having access to certified physicians takes the hassle out of dealing with doctors' appointments and taking time off for non-vacation related reasons. Response time is usually within 15 minutes, rather than waiting for days, even weeks, for an appointment. Children can also be covered by the telemedicine plan, making immediate care for them easy as well.
For the last few years telemedicine has had an obvious positive impact on employee benefits. The service should be explored by any employer offering group health insurance or voluntary benefits. Overall telemedicine saves time, money, and hassle.
Archives
2018
2017
2016
2015
2014