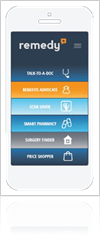 Tired of being dictated to by the health insurance system? Wish you had a good answer when employees ask why it can't be easier?
What you'll learn:
How to gain some control over the system and make using healthcare an easy, positive experience for your people.
Did you know:
Only 7% of employees know the meanings of co-pay, deductible, coinsurance, and out-of-pocket
Americans average 25 hours of work time per year struggling with the healthcare system
Your healthcare plan is one of the top 3 investments by your company. If employees don't appreciate it, the ROI on that investment is negative .
Medical expenses are the #1 cause of bankruptcy, among those with health insurance .
Sign up for our Consumerism Webinar and learn how you can make healthcare fairer for you and your employees.


In the complicated world of benefits, communication plays a vital role between employers and employees in offering a robust benefits package that truly works. Many employees do not fully understand the extent of their benefits or how to use them, but by providing these employees with access to educational materials that explain the complex world of health insurance, employers can simplify the process.
Technology driven solutions like employee resource portals are available to help workers better grasp benefits knowledge and stay up to date on the latest benefits news. These platforms include:
Notifications about important benefits deadlines
Resources explaining the difference between health plan options, medical savings accounts, and retirement information
Comprehensive plan information for health insurance companies or network providers
A direct line of communication with the HR Department
Archives
2018
2017
2016
2015
2014