Professional Employer Organizations (PEOs) like ADP's Total Source can help you piece together all of the complex and necessary activities in running your business successfully. From lowered rates on group health insurance to simplifying all of your employee management operations, PEOs are a great way to streamline your business. ADP is known for its expertise in payroll administration, but the company has broadened its reach to cover all that a business may require to manage employees day-to-day, including:
Payroll
Tax Administration
Recruitment
Talent Selection
Employee Benefits Programs
401K
Risk Management
Safety Management
Employee Relations, Training and Development
Regulatory Compliance
Terminations
As one of our premier partners, Faison Group can consult with you to find out if ADP's Total Source PEO services are the right choice for your business and provide you with preferred pricing. Contact us for a quote today!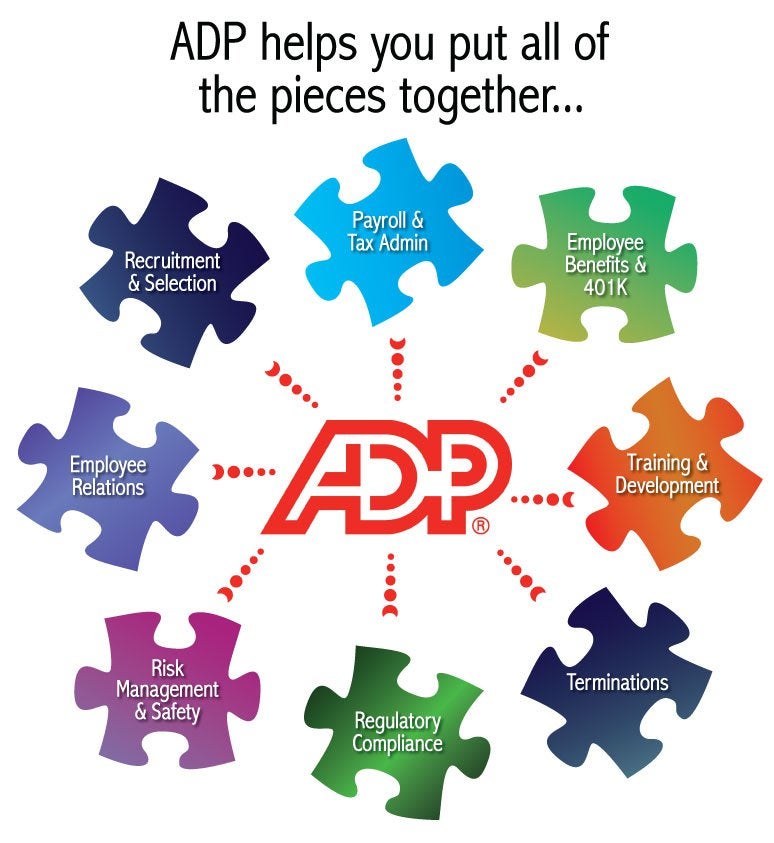 Faison Group had its first We are HR Software Webinar yesterday and it was a complete success! The demonstration took participants through our free HR software platform. Features include benefits administration and enrollment, ready-to-go employee communications, an online employee bulletin board, holiday and event notices, HR forms management and much more.
Employees can log into the software from anywhere, anytime of the day. Information is secure with a unique login and password and administrators can be set to access this sensitive information if needed. Informational notices can be posted on the portal for employee access at any point.
One the most useful features for employees besides the online benefits enrollment features are the links to paystubs, 401K plans, wellness plans and any other sites they may need to visit throughout their employment. It eliminates the number of repetitive questions the HR department receives on a daily basis.
When you make Faison Group your benefits broker, you can have access to the full HR software with all of the reporting and benefits enrollment and administration features it has to offer. If you are not a customer of Faison Group, you can have the lite HR software version for free. Learn more about the two versions by clicking here .

As implants are becoming a common treatment for preserving bone structure and replacing unhealthy teeth, the traditional annual max amounts that usually apply to dental insurance are falling short of the market needs. One major health insurance carrier is now offering an extended annual max to help meet this market trend. Members in essence will be saving 50% off billed charges for all services after their annual benefits are used (in-network). Oral surgery will also be covered as a basic service under this new dental plan.
Group health insurance can be supplemented with this new group dental insurance with minimal increases to overall premiums. In addition the same carrier has reduced overall rates by 25% to make dental coverage more affordable for businesses. This national health insurance carrier is also offering a two-year rate guarantee on plans written in 2016.
There are three ways you can offer group dental insurance to your employees:
Offer group dental insurance without subsidizing premiums at all, allowing employees to elect coverage and pay for the insurance themselves.
Offer group dental insurance with a partial subsidy, where you, the employer, pays a portion of the premium.
Offer group dental insurance that is fully paid by you, the employer.

As an insurance broker in both Florida and Virginia, we have a vested interest in monitoring legal changes affecting the way group health insurance premiums are set. To fully understand what effect community rating will have on your group health insurance rates, you must first understand how premiums are determined by health insurance carriers.
In the past, in the 2 – 50 business sized market, various factors played a role in setting rates: age, gender, occupation, health status, claims history and tobacco use just to name a few. Now that the ACA has reformed regulations, the same groups will be issued premiums for group health plans based solely on age, family size, geography, and tobacco use. Carriers will not allow the use of actual or expected health status or claims experience to set group health insurance premium rates. Additionally, a ratio of 3:1 is being applied to age ratings, while a ratio of 1.5:1 is being applied to those using tobacco.
Depending on where your employees fall into these categories, your health insurance rates could increase or decrease. Understandably, the older your population is, the higher your rates will be, but that doesn't mean you'll see much of a change. Since age has always been a factor, an older group may not be affected greatly. Groups that have younger males will see the most change, since males generally garner lower group health insurance premiums.
Archives
2018
2017
2016
2015
2014