Offering great benefits to your employees is a good start, but how effective are these benefits in attracting or retaining employees if they don't know much about them? Many employers understand the struggles of explaining benefits in a simple and engaging way. Since benefits can be complicated, we'll take a look at some of the best methods for benefits communication throughout the year.
According to the International Foundation of Employee Benefit Plans (IFEBP), most employers are using Print mailers, followed by email, internal websites, and video with few employers utilizing social media, texts, and robocalls. This can be seen in the chart below.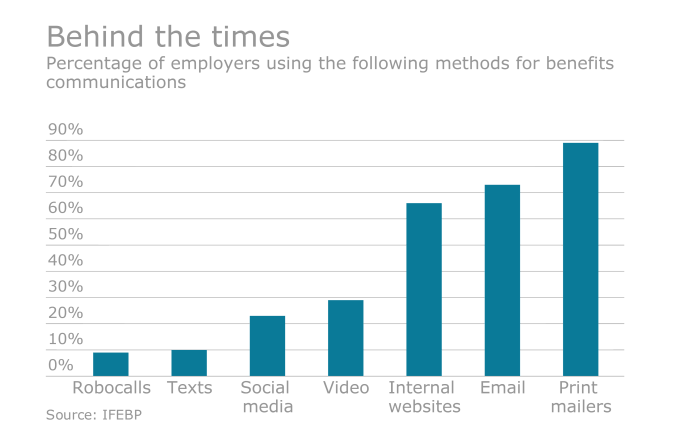 Simple & Concise Messaging
Print mailers and email can be effective for benefits communication and staying in touch with your employees a couple times a month throughout the year. These methods should be simple and concise. At Faison Group, we have a resource library full of short documents perfect for payroll stuffers. Some examples include benefits of an HRA, HSA, Open Enrollment Announcements, and much more. If you would like access to our resource library, feel free to contact us!
Videos and Games
Other effective methods of communication include gaming and videos. This method is particularly effective for younger workers who are used to and enjoy modern technology through apps, video games, and videos. This is a perfect way to break down benefits communications into an easy to understandable format.
Two Way Communication
Don't ditch your traditional communication methods, but rather build upon them. People still like to have benefits guides and pamphlets they can hang on to and refer to throughout the year. Make yourself available for employees to ask questions about these documents or anything regarding their benefits at any time in the year, rather than just the open enrollment period. You can even send out an email halfway throughout the year to gauge your employee's satisfaction and understanding of certain aspects to see what you may want to review with them!