First you might be asking yourself what is a PEO? Also known as a Professional Employer Organization or Professional Employment Organization, a PEO is a service that allows employers to outsource their human resources tasks. The top reasons your company might choose a PEO is for payroll administration, employee benefits (especially health insurance), workers' compensation and liability insurances, and monetary savings. Read on to find out exactly what these services can do for your business.
Payroll
For most small businesses, the hassle of administering payroll is rarely worth the investment in time and energy. If you take into consideration all of the parts of your business that are affected by your payroll function, you will see that payroll is much more than just cutting paychecks. When using a PEO, you'll enjoy the benefit of easier compliance including lowering the risk of health care reform penalties. In addition, a PEO company will possess a higher level understanding of tax and compliance matters that you may not be aware of. Over time, your business will have the ability to more efficiently manage cash flow and offer employees multiple options for payment including Electronic Pay Cards and Efficient Funds Transfer.
Affordable Health Insurance
When you use a PEO, you gain access to a larger pool of employees to be quoted for health insurance with. Therefore, if your employee group is small, comprised with older employees, or has many individuals who are sick, the larger pool gives you access to more affordable health insurance. With better access to more affordable plans, you will be able to offer your employees more comprehensive health insurance coverage for better rates. Employee Leasing Companies specialize in benefits administration as well, assisting your business with enrollment and claims. They can also help with compliance issues in this area, while keeping you benefits costs in line with the Affordable Care Act's thresholds and requirements.
Shift of Liability
Through most PEO arrangements, your business can obtain workers' compensation insurance, commercial auto insurances, umbrella policies, and business owner's policies. Any or all of these types of insurance may be right for your business and depending on your agreement with the Professional Employer Organization, you may choose to take all or none of them in addition to the payroll and health insurance options. One of the main attractors to a PEO is that liability is shifted from the organization to the Employee Leasing Company.
Less Expensive than Employing a Full Time HR Person
The single most convincing reason to use a PEO is that in most cases (depending on company size), it is less expensive than hiring a full time Human Resources Professional. The PEO takes care of all of the functions that an employee could perform in-house, and in some cases for as low as a quarter of the cost. Alternatively, if a business owner has been focusing on these responsibilities, other areas of the business may be suffering – areas like new business development and operations management – which are vital to any business. Working with a PEO may have a ripple effect across your business, with better employee management as well as more time for other business operations.
All in all, working with a PEO is a big decision for any business, but can stand to benefit you in many ways. Further research and obtaining quotes from several companies will give you a better perspective on if a Professional Employer Organization is right for you.

Faison Group has become one of only two preferred ADP TotalSource Providers in South Florida. We have always brokered ADP's Workforce Now product, but are proud to partner with ADP to offer even more to our customers. ADP TotalSource human capital management services handle HR administration and employee benefits while you focus on building your business. ADP TotalSource takes care of taxes, payroll, ACA reporting and compliance, workers' comp insurance, and employee benefits.
At Faison Group, we strive to be the one-stop-shop for all of your employee and HR administration needs and this brings us one step closer to our goal.

If you've been considering a move to Zenefits, you may want to ask yourself what you expect from your insurance broker. Are you looking for a trusted advisor that provides a high level of service that can help you choose employee benefits that make sense for your business? Are you looking for individualized claim support, one-on-one enrollments and the HR expertise that can help keep your company compliant?
A local broker can give you the expert guidance that makes the health insurance benefits selection, implementation and analysis process smoother, plus the HR technology backing your company might be looking for. A technology company like Zenefits lacks the benefit of the personal relationship you'll have with your local broker. At Faison Group, we talk to each client individually. We take the time to listen to your unique situation, shop the market, present ALL of your options to you, and we care about the success of your business. We know that if you're successful, we're successful.
With a massive technology company like Zenefits taking on thousands of clients in return for the use of their technology solution, your business will likely be lost in the shuffle. Faison Group offers:
 the technology you need with our We are HR platform
 the local support you want by offering you one point of contact, one-on-one enrollments and offices in Florida and Virginia
 expert insight with our 25 plus years of experience
 and the valued advice that a good brokerage should offer
It's important to weigh your options carefully and select the insurance broker that is right for your business. We encourage you to ask questions, find higher levels of service and make your decision one you can stand behind.

The Affordable Care Act (ACA) has reformed the rating practices of health insurance carriers in the individual and small group markets by limiting the factors that can affect premium rates. So what does that mean for your small group health insurance premiums? Most likely double digit increases. Small businesses with employee populations that are mostly young and male will see the biggest impact.
The reason for the increase is due to forced community rating. Community rating, also known as composite rating, is the practice of lumping all eligible employees together and assigning a single rating, regardless of individual factors (such as age, gender or tobacco use) that may make an individual a higher or lower insurance risk. Health insurance plans may have grandfathered premiums that small groups have taken advantage of since 2014, but many of those plans are retiring and new policies are being written. By 2017, all grandfathered rates will no longer be affective.
Another provision is for tobacco users. These individuals can be charged rates up to 50 percent higher than non-tobacco users. Alternatively, all other rating factors will be prohibited. In other words, several factors commonly used by health insurance carriers to set higher premiums prior to 2014 (rating factors such as health status, claims history, duration of coverage, gender, occupation, small employer size and industry) can no longer be used.
In Florida, community rating will effect employers offering group health insurance that have less than 50 employees. Having an experienced broker will be the most effective way to minimize the premium increases. Full service insurance brokers have access to many different options that can help keep rates affordable and coverage comprehensive. Level funding, finding an alternate health insurance carrier, or utilizing a professional employer organization are just some of the strategies a broker can help a small group explore.

In today's society, technology is just part of the landscape. It permeates almost every aspect of life, from communication with family, friends and colleagues to managing life's daily activities such as banking and counting calories. Still, there a significant number of small businesses using the old fashioned way of communicating with their employees – printing flyers, posting newsletters in the breakroom or giving out orientation packets to new hires. Unfortunately all of this paperwork usually ends up in one place – the trash can.
So what can be done to change it? Using an HR platform and introducing technology into employee communications is the first step in streamlining messages and giving employees an easier way to receive and access information. A good HR platform will:
display or distribute employee newsletters
offer an area for employees to post information and share with their colleagues
provide a place to post job openings and training opportunities
contain enrollment features for benefits administration
be low cost or no cost to your business
Many times an HR platform is offered by your group health insurance broker as a value add. In exchange for your broker of record and the ability to manage your group health insurance benefits portfolio, you can take advantage of powerful HR technology and make communicating with employees a streamlined and less paper-laden process. You'll save everyone time and make messages more likely to be noticed by giving employees a central place to access HR related information. Handbooks, forms, emergency procedures and company announcements can all be posted for view.
If your current broker isn't offering an HR platform to manage your benefits enrollment and other HR related responsibilities, it may be time to evaluate your relationship and find one that does.

It's group health insurance renewal time and we know what that means… busy season! Here are some tips on how to get through this benefits renewal stress-free.
1. Start early. To make the most of your benefits renewal, you should start getting everything you need together as far in advance as possible. Contact your health insurance broker if they haven't contacted you to get the ball rolling. To keep yourself on track, set yourself calendar notices for 30, 60 and 90 days to remind you of things you may need to take care of at these milestones.
2. Take a look at the past to determine your future. Have you had a high claims year? Has everything been smooth with your health insurance broker and agent? Are you expecting a health insurance premium increase? All of the answers to these questions will help you decide what route you'll want to take this year. You may decide it's time to switch brokers or if you stay with the same one to add on other benefits.
3. Use several different modes of communication to notify your employees. Everyone is unique in the way they like to receive information. For some, a simple email is enough, for others, they'll need a poster in the breakroom, a face to face conversation in the hallway and a follow up call to get them moving on it. Set soft deadlines so that you have leeway in case a few of your employees fall behind in making their elections. Unfortunately, you may need to do some babysitting!
4. Keep a running census. Your health insurance broker is going to need an up-to-date census to shop the market and provide a market price report. Without this valuable information, it will be difficult to get a clear picture of what your new plans and premiums will look like. If your broker is telling you to stick with the same health insurance carrier as last year, make them prove to you why that's the best decision. Shopping the market is the least they should be doing in the renewal process.
5. Vary enrollment times. Hold one-on-one and group enrollments for health insurance benefits at a different time than enrollments for other benefits like life insurance, short and long term disability insurance, and other voluntary benefits. Fully understanding your benefits is half the battle in making elections. For most, the attention span for such in-depth and complicated information is small, so spreading out these meetings can help employees make better decisions for themselves and their dependents.
6. Don't forget about wellness. This year may be the year to add a wellness program to your employee benefits package. You can stand to save an average of 10% if your employees are engaged in your wellness program and hitting even just the lowest targets. If you haven't considered wellness in the past, seeking a consultant to help you vet each plan with you can make the process easy and affordable. Your wellness consultant shouldn't be billing you for this service either, so seek one that doesn't charge fees.

With the shift from full-coverage health plans to high deductible group health plans, the need for making well-informed decisions as an employee is more important than ever. One-on-one meetings may not be an option for your business, so how do you make sure all of the information you want to communicate is readily available? The answer is technology.
With an HR software, you can easily make sure employees are seeing all of the information needed to make the right decisions for themselves and their dependents. The most sought after feature for your online benefits enrollment software is the ability to add in decision-support tools, such as a frequently asked questions section or an area for customized information to help further explain your group health insurance plans. Remember that many employees will benefit from examples. By making connections to real-life situations, it will help them understand exactly how their insurance can work for them. The right HR software can also serve as a place to link outside sources that can provide a more comprehensive understanding of the benefits that are being offered.
HR software can also make benefits elections more convenient and less time consuming. With an online benefits enrollment platform, employees will have 24-hour access to plan summary information as well as payroll deductions, allowing them to make decisions when they have time. This is especially important for businesses running on varying shift schedules.
Also keep in mind that most of our daily tasks, whether they are for work or in our personal lives, are now done online. Why would benefits enrollment be any different? The days of lengthy contracts and paperwork are over. The days of convenience and shortened attention spans are upon us. So whether your employees are more traditional or tech savvy, they'll appreciate the inclusion of HR software in their health insurance and other benefits enrollment processes.

Most businesses moved their health benefit renewal dates to the fourth quarter in 2013 to avoid price increases coinciding with legislative changes to the Affordable Care Act. The result is an overwhelming number of accounts renewing their group health insurance and employee benefits at the same time. Health insurance carriers are inundated with phone calls, paperwork and deadlines.
To ensure your group health insurance renewal goes as smoothly as possible, it's in your best interest to work with your broker to start now. Your group will also see the benefit of taking the time to evaluate each carrier and plan so you get adequate coverage at affordable rates. Your health insurance broker should be able to guide you through this hectic process and offer each alternative so that you may weigh the options with time to spare.
You may be up against an increase in premiums this year, so you'll also need time to plan for funding. Working with your health insurance broker now can help you understand the cash flow needs you may have in the near future.
The key to a stress-free renewal season is communication. If you haven't heard from your health insurance broker lately, it may be time to seek out an alternative. With so many changes in the marketplace, many health insurance brokers have either downsized or gone out of business completely. While they should be in contact with you and not the other way around, it's important not to wait until the last minute to find out if they're going to bat for you this year.

Level funding isn't for every group health insurance plan, but if it works for your business, it could mean a substantial savings in health care costs. With increases expected in 2016 and beyond, switching to this model might stand to save you not only this benefits renewal season, but for years to come.
You are an employer that struggles to find affordable group health insurance for your employees.

Let's face it, health care is expensive! Offering this valuable benefit to your employees can serve as a reason for your talent to stay with you or leave for another opportunity. To combat the increases the market is seeing in traditional group health insurance premiums, carriers have started to offer an alternative – level funding. With level funded health insurance, you only pay for the health care claims your group uses. Stop loss insurance is built in to protect you from excessive or out of ordinary claims as well.
Any money that is left over at the end of the year from your claims fund is returned to you as cash or as a premium reduction for the next year. This could mean a substantial decrease in health insurance costs depending on your employee's claims.
You have a healthy group of employees.

There's nothing like paying premiums every month and knowing that your group is healthy and barely visiting the doctor's office. It seems like wasted money. Since level funding allows you to pay only for the claims your group makes – a healthy group makes for the best case for a level funded health insurance strategy.
You have a workforce that is predominantly young and male.
The way group health insurance rates are determined is dependent on a number of factors. In simple terms, age and gender are paramount when it comes to rating your group. If you have several younger male employees, level funding allows you to avoid something called "community rating" where all employees are treated equally regardless of age or gender. Statistically speaking, young males are less likely to file as many claims, which in turn allows insurance carriers to offer a lower rate on the overall premium amount.
You want to design your own health plan.

In a level funded health insurance scenario, you are free to choose carriers and plans that work for your company. You are not tied to any one plan design.
You want to see full claim information.

Knowledge is power. With level funding, you'll receive data about your claims, which allow a better understanding of where your claims fund is going. This information can help you modify your plan design in the following year to target specific areas and increase or decrease coverage.
Contact Us to find out if level funding is right for your group.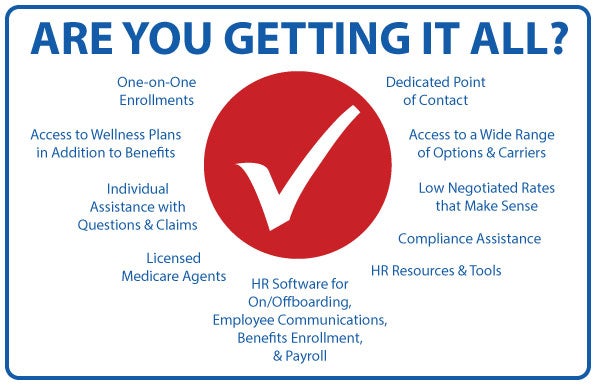 In the world of small business health insurance, there are many different players – group health insurance providers, agents, brokers, carrier representatives – the list goes on. So what services does the benefits broker offer? Many would say the answer was that the broker is there to provide insurance quotes and help you make a decision on which group health insurance provider to go with. In actuality, the answer is a lot longer and more complicated than that. Here are ten things your benefits broker should be doing besides quoting insurance:
1. Negotiating Rates
Your group health insurance provider should be negotiating your group's rates on your behalf. With these negotiations also comes an unbiased comparison of the coverage of different insurers. Unfortunately, with all that's happening in health reform, the industry is seeing a rise in group health insurance costs at almost every renewal. It's your broker's job to find the best rates combined with the best coverage on your behalf.
2. Offering Access to a Wide Range of Carriers
Part of keeping rates low can involve searching for opportunities to reduce overall premiums by bundling various types of insurance. Your broker should provide you access to a wide range of carriers across various types of insurance – not just group health insurance.
3. Adding Value with HR Resources, Tools and Software
It's in your best interest to find a benefits broker that gives you access to HR resources and tools to make your life easier. With ready to go content such as posters, emails, articles and employee handbooks, communicating to your employees will be a breeze. You'll also find employee data management much less time consuming with simple HR software. Not many brokers offer this added service, so it's an important question to ask when choosing a group health insurance and wellness broker.
4. Providing Free Enrollment & Benefits Counseling
Your company should never be charged by your group health insurance broker for enrollment or benefits counseling. Consulting services such as these should be covered by the commission the broker receives from each insurance carrier.
5. Assisting with Claims
Claims can be a complicated process in some cases. It's important to know that your group health insurance broker will go to bat for you when the time is needed. An attentive benefits broker will handle your claims and questions in a timely and fair manner.
6. Implementing One on One Enrollments
Part of the broker's job is to provide one on one enrollment services and benefits counseling to all of the employees in the company. Addressing the specific needs of each individual is paramount to ensuring the group health insurance plan and other insurances meet employee requirements.
7. Providing Access to Wellness Plans in Addition to Benefits
If your broker hasn't yet given you access to wellness plans, you may be missing a huge opportunity to reduce the overall group health insurance rates. When implementing a multi-year wellness strategy, a wellness plan can greatly increase the health of your employees while engaging them in positive behavioral changes.
8. Maintaining Compliance
ERISA, ACA, HIPAA/HITECH – just to name a few – are all important when you're talking about benefits and wellness compliance. Your benefits broker should be assisting you in keeping your records straight as well as submitting your documents on time. Penalties and fines can cost a pretty penny if your company falls behind on compliance. Having a benefits broker that is well versed in legislation is key to avoiding these issues.
9. Licensed Medicare Agents
As our population grows older, so do our workers. More and more employees are becoming Medicare eligible before they retire. Special licensing can be obtained by insurance agents to address the specific needs of these individuals. The importance may not seem apparent, but in quoting small group health insurance, age is a large determinant on rates.
10. Dedicated Point of Contact
Lastly, your benefits broker should assign you a dedicated and experienced single point of contact so that your needs are taken care of quickly and intelligently. There's nothing like leaving countless voicemails with no confidence in a return call. You and your business should be the benefits broker's highest priority.
Whether you're in the market for group health insurance or a wellness plan, make sure you choose a broker that is offering all of the added benefits it should be.
Archives
2018
2017
2016
2015
2014